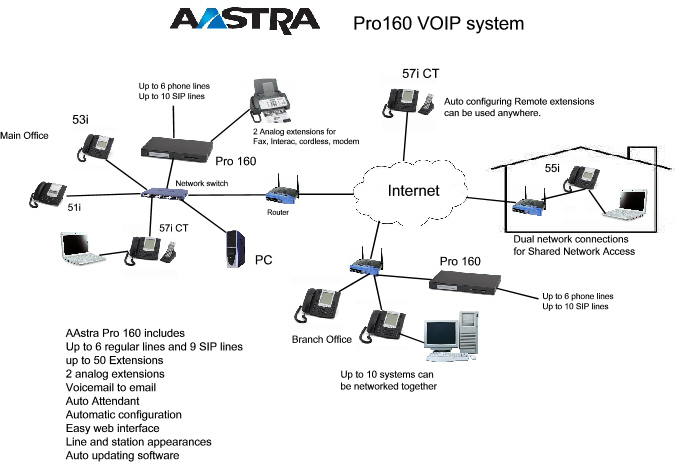 Announcing the

AastraLink RP™

Introducing the
New AastraLink Pro 160

The AastraLink Pro 160 is a Linux-based appliance that hosts Asterisk® open source PBX software. This system is a :plug and play system", It can be up and running in lesss then 10 minutes!

Award Winning SIP-DECT

Aastra SIP-DECT™ singled out for Innovation and Quality
Easy set up! Plug the phones and the Aastralink into your network and start calling!
Customize your system with an easy to use web interface.
Designed for up to 25 users, 50 with SIP trunking.
Link up to 10 sites together
Full Voicemail and Auto Attendant
Voicemail to email messages
Remote Teleworker
Line Keys, Busy lamp buttons
and More!

Features and Benefits:
Feature Rich IP PBX The AastraLink Pro delivers large PBX functionality to the small business environment.
Featuring an Auto-Attendant, which automatically configures on initial startup, the AastraLink Pro manages and directs incoming calls to individuals or groups by extension dialing or name search.
In addition, individual Voicemail boxes are also automatically configured and operational at start up.
PBX telephony features include: call forward, hold and hold alerts, call log, call transfer, 3 way conferencing, corporate and personal directory. *
Simple Deployment by plugging the AastraLink Pro into an existing LAN (Local Area Network) it's ready to start communicating without the need of an installation technician.
The AastraLink Pro will auto discover and configure any new Aastra SIP phones connected to the system making the need for a service technician to perform moves, adds and changes a thing of the past. *
Networking, Teleworking and Scalability The AastraLink Pro grows as your business expands. It can host up to 50 extensions when SIP trunking is used, and up to 9 AastraLink Pro systems can be linked together via IP to create a WAN linked multi site office environment.
Remote tele-working from a home office is as simple as taking an auto discovered AastraLink SIP phone and plugging it into your UPnP enabled home network. *
Affordable Solution integrates with Aastra SIP phones With no hidden application license or user costs, or the need of an installation technician, AastraLink Pro is a cost effective and powerful small business communication system that tightly integrates with the following
Aastra SIP phones and expansion modules: 51i, 53i, 55i, 57i, 57i CT, 536M, and 560M, and the newly released 9143, 9480i and 9480i CT.
Contact us for more information
Aastra SIP Phones
| | | | |
| --- | --- | --- | --- |
| 480i CT with Cordless DECT | 480i Large screen | 9480i CT with cordless DECT | 9480i Large screen IP |
| | | |
| --- | --- | --- |
| 9112 basic | 9133i Multiline | 9143i Full featured |